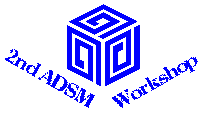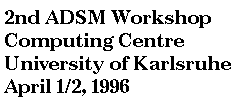 ---
...had begun
and here are some impressions of the first day: some pictures. The 2nd ADSM-Workshop was a great success. 150 participants attended the ADSM-Workshop. Handouts of the speakers are included in this page.
Brief Description
Following the workshop in March 1994, which focused on ADSM Version 1 and

attracted about 80 participants from German ADSM sites, we plan to organize

a second meeting. In this second workshop we can concentrate on the exchange

of experiences gained with ADSM Version 2 and also on general ADSM issues.

The first day of the workshop is intended for general sessions and reports.

On the second day we expect to run parallel sessions, covering the following

issues (and possibly others):
Requirements for Large Sites in Europe (ALES)
Special needs for PC environments (Novell, etc)
Disaster recovery schemes
---
Key Note Speakers
Paul Bradshaw, IBM San Jose, ADSM development
Karen Dutch, IBM Hursley Park, ADSM early support program
Achim Zink, IBM Mainz, ADSM development
Michael Lindner, IBM Mainz, ADSM development
Dick Replogle, IBM Tucson
---
Call for Papers
We already have offers from the following sites/speakers:
K. Dilper, University of Karlsruhe, Germany
Dr. H. Richter, Leibniz-Rechenzentrum Munich, Germany
H. Gernert, University of Karlsruhe, Germany
S. Treweek, University of Oxford, UK
R. Bogus, University of Heidelberg, Germany
F. Dequenne, ECMWF, UK
L. Wollschläger, Forschungszentrum Jülich (KFA), Germany
V. Machmeier, Bayerische Vereinsbank Munich, Germany
---
---
---
Important note
Starting from the 31st of March, there will be summertime in Germany, i.e.

the time will be put on one hour.
---
Deadline
The registration deadline is on the 27st March at 12:00 pm.
---
Technical Issues
Fee

The workshop fee will be DM 100,-- including coffee, tea, biscuits, lunch

and a conference dinner on Monday evening. You can pay by eurocheque or

cash. Please pay at the workshop office when you arrive at the workshop.

Starting from the 1st of April at 9:00 am, the workshop office will be

located in the foyer of the University building 30.10 (see also the

map of the University). The NTI-lecture room, where the conference will

take place, is also in this building.

Workshop language

English

Workshop office

Starting from the 1st of April at 9:00 am, the workshop office will be

located in the foyer of the university building 30.10 (see also the

map of the University).

Workshop phone number

Starting from the 1st of April at 9:00 am, the workshop phone number will

be +49 721 608 2695.

Parking facilities

Parking facilities are available near the workshop. If you travel

by car and you want to enter the campus, you have to enter from the

west ('Haupteinfahrt', see the map of the University). Please follow the

signs. There is also an underground car park available near the workshop.

Hotels

The University has arranged for a special rate of DM 150,-- per night

without breakfast in the Renaissance Hotel (Phone: ++49 721 37170,

Fax: ++49 721 377156), which is within walking distance. Please refer

to this arrangement when booking. For further information please call

also the local organization concerned with upkeep of tourist attractions

(Phone: +49 721 35530).

Map of Karlsruhe
Infos on the University of Karlsruhe
Getting to Karlsruhe
---