sprungmarken_marker_14989
↵
↵
from Employees
Selecting a team type when creating a team
Can I add students to my team?
I do not want to accept students individually in the team, what can I do?
How can I use MS teams for online teaching?
How can I be invited to join an external team?
How can I add external partners to a team?
from Students & Guest Students
I cannot change the client and I do not see my courses/teams. What can I do?
Start chat between supervisor and student
Guest Auditor Account...
to Log In & Starting
I end up in an endless loop when I log in to the self service portal my.scc.kit.edu
Does the password already have to be provided to Microsoft when signing up for Teams?
After starting the app, you will receive a message from the firewall
Some apps, including Microsoft Teams, report via a Windows Defender Firewall dialog that some features are blocked by the firewall. This message can be ignored with the "Cancel" button.
When starting MS Teams in the browser, you get an error message "Allow third-party cookies".
I get an error message "Do not stay behind" when I try to log in
Question: Allow management of the device?
The MS Teams DesktopApp suddenly does not start anymore
to Privacy & Security
Voicemail usage disabled
For data protection reasons, the VoiceMails function including the transcription option is switched off.
How secure is the data?
The data is stored on Microsoft servers and therefore you should handle your data with care. No sensitive data should be uploaded or talked about. Therefore there is only a toleration of data protection during the crisis.
I do not want to talk with video image, what can I do?
It is up to each employee to decide whether or not to switch on the camera on his or her terminal. It is not permitted to force the use of the camera. Recording of the video conference does not work. This function is currently not available.
How can I leave a team with my guest account?
Where can I find information about my account?
to Application & Functionality
Voicemail usage disabled
For data protection reasons, the VoiceMails function including the transcription option is switched off.
Standard chat responses
Mobile Teams clients have recently added the ability to use standard replies in chat.
Example
To the question: "Shall we have dinner together?" the answers "Can we" - "Yes" - "Yes, absolutely" are offered as a small additional menu.
This option is only offered for chats in your own client (in our case, in the tenant "Karlsruhe Institute of Technology (KIT)").
You can turn this off in the following way:
On the mobile device, open Teams. Go to settings via the round icon next to "chat".
Then select Messages. In the following window, this functionality can be switched off.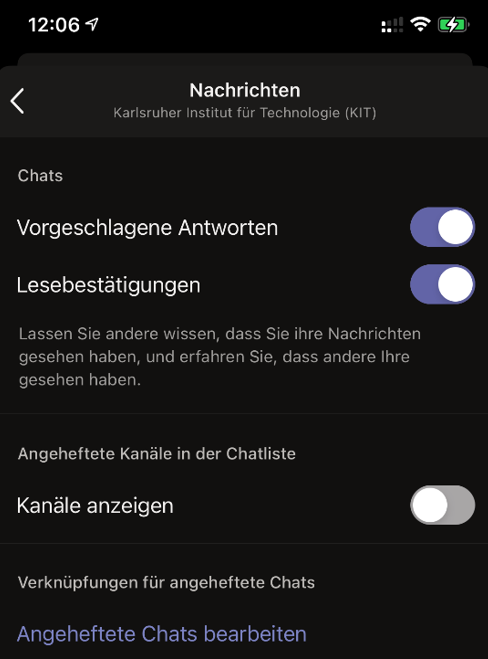 Linux Teams client discontinued - Progressive Web App (PWA) for Linux available since end of 2022
Linux Teams Client or Linux WebApp (PWA ) - Workaround for problems
Apparently there are always problems or function restrictions when using the Linux Teams Client or the Progressive WebApp (PWA) for Linux under some Linux distributions.
Client change migrates...
Why can't some people be found by searching?
Why do I not see a calendar or other tools in MS Teams?
MS teams (and only this) are only available for the time of the Corona crisis and are only tolerated by data protection during this time. After the crisis, a reconsideration of the possible applications will take place. The calendar and other cloud services are not primarily part of teams and are therefore not released. Existing users were not subsequently restricted.
Recording of the video conference does not work
What do I need to do and consider when recording a Teams meeting?
Breakout-Rooms
Can I schedule a team meeting as a substitute via Outlook in another mailbox?
to Installation & Configuration
How do I use MS Teams on Windows RT?
The operating system is not supported by Microsoft with the client application. Possibly the (limited) use in a browser is possible.
My profile picture cannot be changed.
Outlook Add-In for MS Teams meeting disappeared after update (Windows)