The service descriptions are being translated at the moment
If there´s no English information available please use the German counterpart. We are working on the English translations right now and we apologize for any inconvenience.
Microsoft Update Service (WSUS)

The WSUS service downloads updates from Microsoft servers and makes them available in the KIT's internal network.
Allgemeines
Über den WSUS-Dienst des SCC erhalten Sie Updates für aktuelle Microsoft Produkte.
Vorteile:
schneller Zugriff
einfache Konfiguration der Client-Rechner per Gruppenrichtlinien
nur Verteilung der relevanten Updates (kritische und sicherheitsrelevante Updates sowie Updates für die Verbesserung der Betriebsstabiltität)
Bestellung
Der Dienst wird kostenlos zur Verfügung gestellt.

Nutzung
Der Dienst ist grundsätzlich für jeden Windows Rechner nutzbar und kann auf die folgenden beiden Arten konfiguriert werden.

Active Directory/ Group Policy
Im Active Directory des KIT finden Sie eine vordefinierte Gruppenrichtlinie (GPO) SCC-WSUS-WAU, welche die folgenden Einstellungen beinhaltet: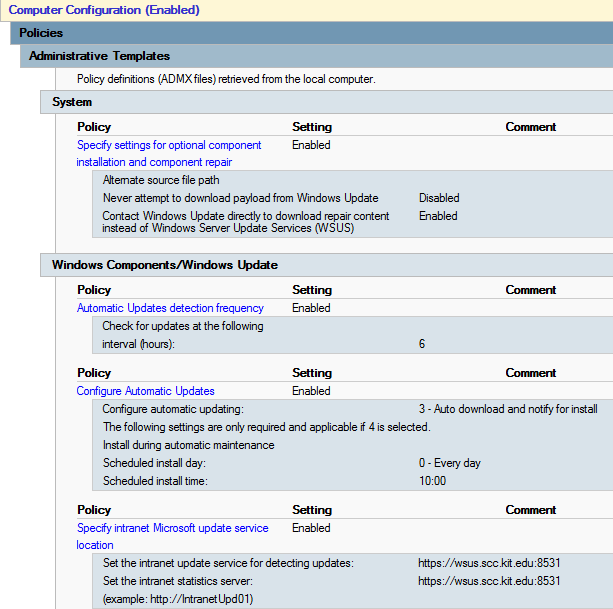 Diese GPO können Sie mit Ihrer OU verknüpfen. Über weitere GPOs können Sie ggf. die Einstellungen verändern oder ergänzen.
Wir empfehlen, die vorgegebene GPO zu nutzen und in einer zweiten GPO Ihre OU-spezifischen Einstellungen (bspw. Zeitpunkt der Installation) vorzunehmen. Ferner ist es sinnvoll, die "Target Group" Einstellung zu setzen und mit dem Kürzel Ihres Instituts zu versehen.

Registry Key
Die zur Nutzung des SCC-WSUS notwendigen Registry-Einstellungen können Sie auch von Hand vornehmen. Hierfür haben wir eine passende Vorlage erstellt, die Sie bspw. als Datei wsus.reg abspeichern und anschließend über regedit wsus.reg importieren können.

Bitte beachten Sie, die TargetGroup-Einstellung entsprechend Ihrem Instituts-Kürzel anzupassen.


Windows Registry Editor Version 5.00

[HKEY_LOCAL_MACHINE\SOFTWARE\Policies\Microsoft\Windows\WindowsUpdate]
"WUServer"="https://wsus.scc.kit.edu:8531"
"WUStatusServer"="https://wsus.scc.kit.edu:8531"
"TargetGroupEnabled"=dword:00000001
"TargetGroup"=""
"ElevateNonAdmins"=dword:00000001

[HKEY_LOCAL_MACHINE\SOFTWARE\Policies\Microsoft\Windows\WindowsUpdate\AU]
"UseWUServer"=dword:00000001
"DetectionFrequencyEnabled"=dword:00000001
"DetectionFrequency"=dword:00000006
"NoAutoUpdate"=dword:00000000
"AUOptions"=dword:00000004
"ScheduledInstallDay"=dword:00000000
"ScheduledInstallTime"=dword:0000000a
"NoAutoRebootWithLoggedOnUsers"=dword:00000001
"AutoInstallMinorUpdates"=dword:00000001
"RescheduleWaitTimeEnabled"=dword:00000001
"RescheduleWaitTime"=dword:00000002
Enthaltene Leistungen
Unser WSUS schaut dreimal täglich nach neuen Updates. Dementsprechend werden die Updates sehr zeitnah zum Microsoft Patchday (in der Regel jeweils am zweiten Dienstag eines Monats) zur Verfügung gestellt.

Der WSUS bietet Updates für folgende Microsoft Produkt-Gruppen an:
Active Directory
Developer Tools, Runtimes, and Redistributables
Exchange (ab 2013)
Microsoft Dynamics CRM
Microsoft Security Essentials
Office (ab 2010)
SQL Server (ab 2008 R2)
System Center
Windows (ab Windows 7, Server 2008)
Der WSUS gibt Updates folgender Klassifikationen automatisch frei, sofern diese keine Licence Acceptance erfordern:
Critical Updates
Definition Updates
Security Updates
Update Rollups (z. B. Exchange Rollups)
Updates
Updates folgender Klassifikationen werden vom SCC nach Prüfung händisch freigegeben:
Update Rollups, die eine Lizenzakzeptanz erfordern (z. B. neue IE-Versionen)
Feature Packs
Service Packs
Tools
Updates folgender Produkte und Klassifikationen werden nie freigegeben:
Drivers
Language Packs
Internet Explorer
Die folgenden WSUS-Targetgroups stellen zusätzlich die Windows 10 Featureupdates zur Verfügung:
KIT-Win10-Test: Windows 10 Featureupdates werden nach Erscheinen sofort freigegeben
KIT-Win10: Windows 10 Featureupdates werden erst nach SCC-internen Tests freigegeben
Nicht enthaltene Leistungen
Keine Updates / Patches für Nicht-Windows Betriebssysteme und -Anwendungen
Organisatorische Voraussetzungen
Der Dienst kann von jedem Windows Rechner im KIT-Netz genutzt werden.
Technische Voraussetzungen
Der Dienst ist nur für Windows Betriebssysteme im Mainstream und Extended Support verfügbar, siehe http://support.microsoft.com/gp/lifepolicy.