iOS
There are two ways to set up WLAN on iOS: configuration profiles or manual configuration. We recommend using configuration profiles as they provide additional security features.
Configuration using configuration profiles
If you already installed an eduroam profile provided by another institute, make sure to uninstall it beforehand (go to Settings → General → Profiles).
Open this website in Safari (Apple's native browser on iOS) on your Apple device. Open the appropriate links:
Only install profiles marked as "Verified ✔".
Your WLAN username always consists of your KIT account and the suffix "@kit.edu":
ab1234@kit.edu – staff
ab1234@kit.edu – guests & partners
uxxxx@kit.edu – students
If you make a typing error when entering your WLAN username, you need to remove (go to Settings → General → Profiles) and reinstall this profile.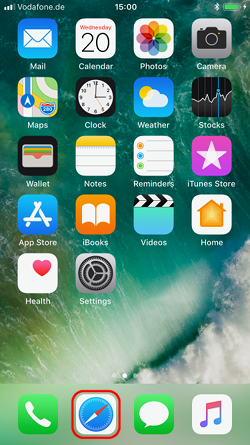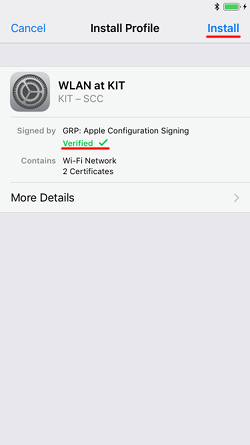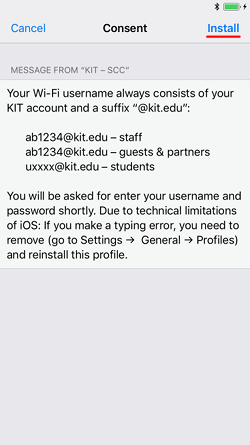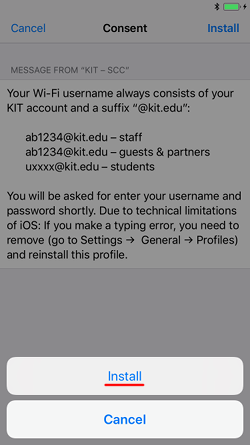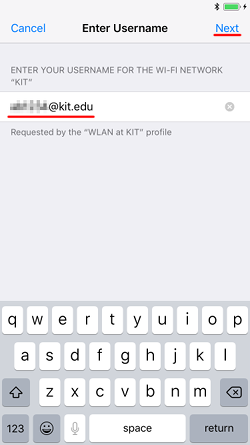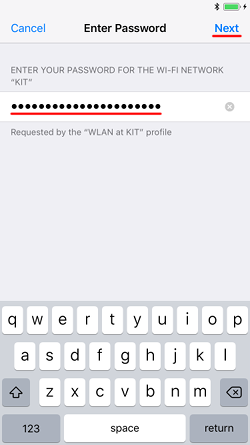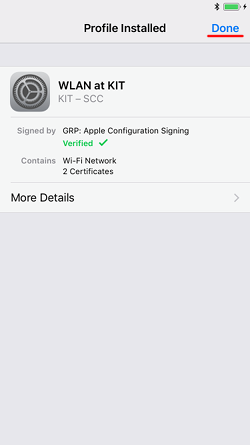 Manual configuration
The following shows how to connect to KIT. To connect to eduroam simply replace all occurrences of KIT with eduroam.
Detailed instructions (using iPhone 6, iOS 8):
Open the "Settings" out of your home screen [figure 1], press "Wi-Fi" [figure 2] and enable it. You see all visible wireless networks in your area [figure 3]. Choose the network KIT by pressing on it.
Log in with your KIT account (e.g. ab1234 ∂does-not-exist.kit edu or uxxxx ∂does-not-exist.kit edu) and press "Join" (in the upper right corner) [figure 4]. Accept the certificate from our authentication server (radius-wlan.scc.kit.edu), which has to be issued by KIT-CA, by pressing on "Trust" [figure 5]. If the certificate is not issued by KIT-CA, please contact the Service Desk. Now you see a Wi-Fi icon next to your service provider [figure 6].