The rapid population growth along with climatic changes results in new challenges for modern agriculture. A deeper understanding of important economic plants, such as rice, is a precondition for the development of new cultivars.
To find the responsible genes that make plants more resistant, Dr. Michael Riemann of the department of Molecular Cell Biology (Prof. Dr. Peter Nick) in the Botanical Institute of KIT is working with da-cons GmbH to analyze the growth of rice seedlings. Their research focuses on the crucial early stage of seedling development and therefore plants are grown in darkness while an infrared camera system is recording images of the plants every hour. To increase the efficiency of study further (semi-) automatic image processing technology is used to extract the main growth parameters for shoot, first leaf and seminal root of rice.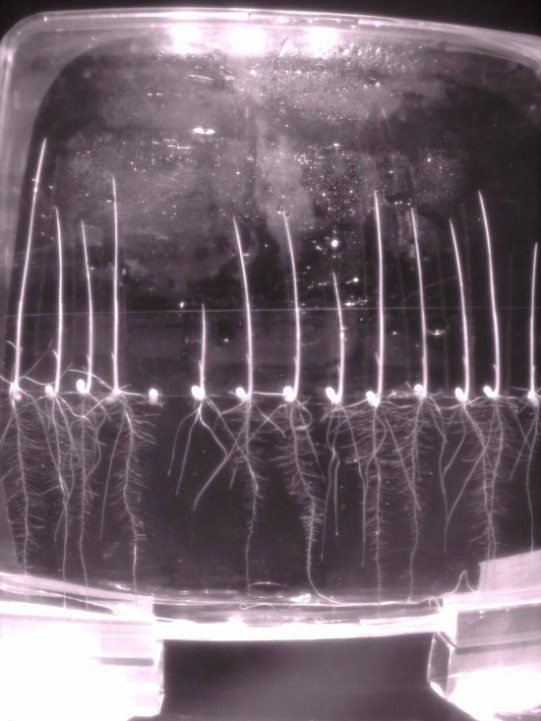 A basic setup of the system is shown in figure 1 and via a demonstrative video-clip. This setup is enclosed in a 50cm * 50cm dark box, 20 heads of infrared LEDs provide the illumination for the camera. By this setup, the influence of visible light on the seedlings is prevented. An attached Raspberry Pi computer is capturing images every hour and allows therefore a finely grained documentation of the growth of the seedlings. The images will be automatically transferred to a server where researchers have the opportunity to examine them. Further, the images are analyzed (semi-) automatically using algorithms developed by da-cons. These algorithms calculate the length of the stem, the first leaf and the root.
An example of a rice plate with 14 seedlings is shown in fig. 2.
In the next phase of the collaboration the generated data sets will serve as reference in the pilot of an OpenData platform. The SCC plans the development an on-line OpenData platform that enables data publication for scientific communities. The data collected by RiSeGrAn (Rice Seedlings Growth Analysis) is used to determine the user requirements and for testing. da-cons GmbH will consult their partners to achieve these goals.
da-cons, a spin-off of SCC, offers visualization and archiving solutions of big imaging data.
Authors: Ting Xiao and Dr. Michael Kreim (da-cons GmbH), Dr. Michael Riemann (KIT/BOTANIK)